2020-01-27
by quadra zone.
Mothership Character Sheet
mothership character sheet downloads tools mothership 0e

The original Mothership character sheet is among the best pieces of layout design I've seen in RPGs, combining an excellent character-creation flowchart with a very usable gameplay aid. However! After running the first "season" of a campaign and using my players as playtesting subjects, our needs gradually deviated from what the original sheet accommodated, and I found a few tweaks I'd like to make. Plus I wanted to learn from the master by picking apart Sean's original and see if I could find ways to improve on it!
Downloads:
Calm Version Downloads for users of my Calm system:
Translations: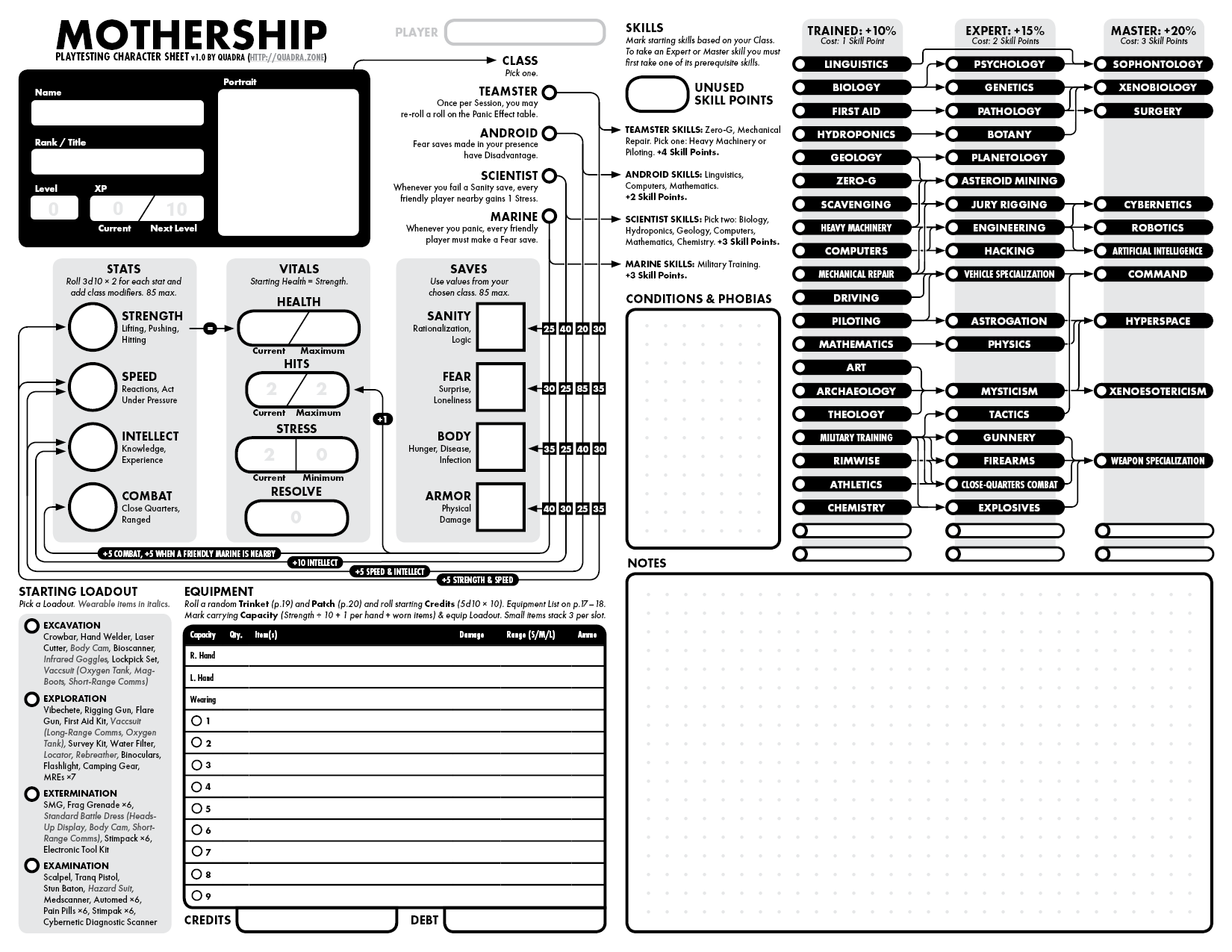 Redesign goals:
Make a fitting homage to the original, maintaining its flowcharty quality, usability, and aesthetic
Maintain character stats and necessary instructions for character creation
Lay out the sheet to lean a little more towards usability in play while maintaining ease of character creation (use less space on character stats, make a bigger Notes field, etc.)
Use the latest playtesting health rules, in which PCs have Hits in addition to

HP

, and each Hit has

HP

= Strength
Use the latest playtesting encumbrance rules, without adding too much clutter
Try to make the flow between Skills a touch more readable
Add some more fields:

A

"

Player" field (for ease of organization — I hold onto the player sheets in my home game)
A

"

Next Level

XP

"

field (so players can easily see what they're working towards)
A

"

Conditions and Phobias" field (I want to lean more into these in the future)
A

"

Minimum Stress" field (this has come up a bunch for us)
An

"

Unused Skill Points" field (my players often bank skill points for later use)
A

"

Debt" field (we haven't used this yet but there will be new debt rules, plus I like the message putting it on the character sheet sends)

Add some spaces for new skills (we've been pretty well covered so far, but I like explicitly calling out that we can add new ones if we want)
---
Edits:
2020-04-09: added a form-fillable version.
2020-09-03: added a version that uses my Calm system.
2020-10-23: added a form-fillable version of the Calm sheet.
2021-05-13: added a French translation of the form-fillable Calm sheet by Pyloric.